Am CH Fin Ch AmstW-05, EUW-06, Swedish Winner 06 Swedish Winner 07 Norway Nordic Champion 2008 Danish Champion 2008
CH Thornapple Oh Brother
"Damon"
Nordic Winner 2006!
November 8, 2008 *** Damon won the Open Class and got his important CC so he is now Danish and Nordic Champion!!!! Not many
Aussies have that title. CONGRATULATIONS to EASY KENNEL! :)

July 07 NEWS from Anna-Lena!!!
We have been away for a weekend dog show! We showed Damon Cacib BOB, BIG and BIS-5!!!!
Enya Cacib, BOS, Lucy CC 2nd Best Bitch (Congratulations to Lucy's owner, Marie Samuelson, of Sweden)
& Janis 3rd Best Bitch! For fun, I counted Damon's wins. He has 53 Best Of Breed wins, 28 Group 1 wins,
11 Group 2s, 1 Group 3, 1 Group 4 and 1 Group 5. He has 5 Best In Shows (including one at a Working Dog Show),
7 Best In Show-2, 5 Best In Show-3, 1 Best In Show-4 and 2 Best In Show-5! JUST TOO FANTASTIC!!!
I wonder if there is any dog in Europe with 28 Group 1 wins??!!! Hugs'n Love A-L
HUGE CONGRATS, ANNA-LENA & NIKLAS!!!! WE ARE BURSTING WITH PRIDE FOR DAMON!
We thank you for your doing a wonderful job with Damon and recognize your
incredible accomplishments in Europe with Damon!

CH Thornapple Oh Brother thinks the Best Bitch is pretty cute!
Exciting News from Sweden! Ch Thornapple Oh Brother has two new titles!
Damon is now Am CH Fin Ch AmstW-05, EUW-06 Thornapple Oh Brother. Congrats Anna-Lena & Niklas!
Finally we are home from Finland. It was a very big show called European winner show. There where dogs from all over Europe!
They also send the group final at TV... and directly on internet for all who wanted to look. It was sad that we didn't know
that before, than all of you could have seen Damon at TV ... Damon actually took two new titles. Finnish Champion
and European Winner 2006 (both are official titles)!! He was also shortlisted in the group (it was just 7 left),
but unfortunately he didn't placed ... We had a very nice trip traveling together with Diablo's mum and dad (Bitta and Steffen).
We really enjoyed every minute, thanks Bitta and Steffen!!!!!!!!!!!!! Thornapple did also got Best breeder group in the breed ring
(it was two). In the group where Diablo, Jag, Damon and Janis. But we didn't took them into the final ring, because just after
that Damon should be in group no 1... so we decided to not go in with them. We wanted to give Damon the best!!
Congrats Amanda to Courage big win!!!!! Awesome!!!!!!!! Also congrats Amy to Spitty's champion title and to Miss Shayna
for being the best again!!!!!!!!! She's a darling!!!!!!!!! Tell her that it have come out a new CD from Amy Diamonds ...
I will send it to her! If I miss anyone winning this weekend: CONGRATULATIONS to you all!!!!!!!!!!!!!! I'm so tired and haven't
read all of the emails. Love Anna-Lena
And HUGE Congrats to you, Anna-Lena!

Here is a very nice photo of one of your breeder groups this past summer, 2007. It's Janis, Lucy, Enya and Damon.
August 25, 2006 ---
We have put Damon to an Aussie site in Europe,
look here: http://www.geocities.com/importaussies2/thornappleohbrother.html
I think he's so so so so so so nice at that photos!!!!!!!!!!!
Take care of all your family!!!!!! Including Amy with family!!!! Our prayers are going to you all!!!!!!!!!!!!!!!!!!!!!!!!!
Many BIG HUGS! Anna-Lena
Good News from Anna-Lena in Sweden - December 10, 2006!
Damon is a wonderful boy!!!!! He became BOB and got the title Swedish winner -06.
Damon also won the group today! Congratulations, Niklas & Anna-Lena!
In a very close race between the beautiful Poodle, the showy American Cocker and the handsome Aussie ...
the race went down to the wire today ... It was a photo finish!
By winning Best In Show today, the American Cocker took #1 All breed,
the Poodle #2 and Damon #3 All Breed for 2006.
We are VERY PROUD of Damon!
We wish to thank Easy Aussies for your hard work & dedication campaigning Damon this year.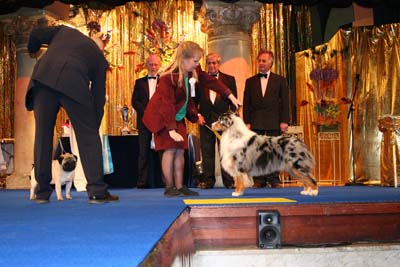 The NEWS from Sweden courtesy of Anna-Lena Munkvall! May 20, 2007
On the 13th of May, we had a SHOW of CHAMPIONS in Sweden! 33 Aussies were entered. Damon won Best Of Breed!
Damon was awarded a new title -- Swedish Winner-07! It is an official title in Europe! Enya was 3rd Best Bitch and
Lucy was fourth Best Bitch. The judge was Peter Harsanyi from Hungary. The weekend of the 19th, Damon won BIS-2!!!
3700 dogs were entered in this show! The breed judge was Fredrik Norgen of Sweden. The group judge was Mrs. M. Talvitie,
Finland and BIS judge Mr. Hans Lehtinen of Finland! The next day, May 20, Damon won Best Of Breed and Group 2!
The group judge was Leif Herman-Wilberg of Norway.
BEST IN SHOW!!!!

Hi all, we're just home from a big dog show again (a bit over 3500
dogs - April 23, 2006). We didn't show the breeder group this day, but we showed Damon
and Lunar. Lunar became second best dog with cc ... and our Damon ...
what can I say??? He's just amazing!!! He ended up as .... BEST IN SHOW!!!!!!!!!
We're just so happy and tired! Love, Anna-Lena
Read All About It! www.hundsport.se
Good News from Anna-Lena in Sweden, November 20, 2006!
We have been on a very big Nordic winner show in Norway. Nearly 6000 dogs
entered, Norways biggest dog show ever! It was 33 Aussies. Damon was BOB
and Janis BOS. Both got there official title NORDIC WINNER 2006!!!! Damon
also became Norwegian champion!!!! And he didn't end with BOB.....!!!! He
ended up as group winner and third in the BEST IN SHOW!!!!!!! Best dog from overseas....

We are very happy but very tired.... we were back home at half past two
this night..... it costs a lot to be at the top LOL!!!!!!! Love, Anna-Lena
Congratulations Anna-Lena & Niklas Munkvall!

GROUP 1 * Nina Karlsdotter *** BEST * Elina Tan-Hietalahti (Finland)
OWNER HANDLED BY NIKLAS MUNKVALL
Blue Merle Male * DOB 5/9/02
Sire: CH Ragtimes Set In Stone
Dam: Thornapple Pieces Of My Heart
Breeders Ellen Brandenburg * Amy Garrison * Victoria Davidson
Damon finished his AKC championship with 5 major wins!
Damon has taken Sweden by storm
winning 3 All Breed Best In Shows in July 05!
Damon is red factored * OFA Good * Elbows normal * Eyes cleared yearly
Owned by Anna-Lena & Niklas Munkvall
Akersberga, Sweden
Contact Anna-Lena for more information * Easy Australian Shepherds

And CH Thornapple Oh Brother "Damon" takes Group 1 and Best in Show 5
with an entry of over 4,000 dogs! Group Judge Elina Haapaniemi from Finland
& Best In Show Judge Donna Cole. Photo by Johan Frick-Meijer.


Busy in Sweden! Thornapple Aussies wins 4th Best Breeder Group in Show!

Best In Show 2 * Gothenburg, Sweden

Alexander Munkvall on his way home from a dog show!


Home at last! :))

photo shoot for a USASA Journal back cover!

Best In Show! August 2005!


Damon wins Group 1 * May 2005

Damon at the USASA Nationals in April 2004

Gorgeous Damon just before he leaves for Sweden!
Amy groomed Damon to perfection!

Damon kicks up his heels thinking about the ladies in Europe!!!

Damon plays with his best friend, Enya, in Sweden * November 2004

Damon babies in Finland!