NUCH Danish CHThornapple Ruby Passion LP 1
"Lucy"
Red Merle Bitch * 12/11/05
Sire: Thornapple Powercore
Dam: CH Thornapple Silken Flame
Owned by Marie Johansson & Joakim Samuelson * Fredriksdal, Sweden
Bred by Amy Garrison * Ellen Brandenburg * Victoria Davidson
Ruby Passion Australian Shepherds
Gallery 3 - Photos taken in Sweden

NEWS from Anna-Lena & Marie in Sweden!
We showed in Denmark this weekend. We just bring Jack and
Marie took Lucy with her. Jack won CC, CACIB and BOB and also shortlisted
in the group!!!!! Lucy was BOS with CC and Cacib and she also became Danish
champion!!! Hugs, A-L
CONGRATULATIONS Anna-Lena & Marie on a successful weekend!


Marie Johansson reports in January 4, 2009:
Hi Everybody! I know A-L has told you about this wonderful weekend. I am so proud that my little Lucy become BOS one day.
I did not think she would beat Enya. Lucy does not have that much coat . She is going into heat soon and I am going to breed
her to "Bommie boy." The judge really loved Lucy (she has been judging her two times before). Today she said to me that Lucy runs
like a train and that Lucy is a QUALITY bitch! I have got some pictures of my girls and of me and Boom. I did show Boom on Saturday.
He was a fun dog to show. He had a lot of energy! When I went home from Gothenburg I took Chauncey with me, he is a wonderful dog.
When we are out in the forest he runs and he runs. He loves to play with Olivia and he LOVES to sleep in my bed.
Now finally we have SNOW !!! The dogs has been out and played a lot in the snow!!! Hug Marie, Lucy and Olivia
CONGRATULATIONS ON AN AWESOME WEEKEND Marie!


November 24 - NEW CHAMPION IN SWEDEN!!!!
I just want to tell you that my little girl Lucy has become a NORWEGIAN CHAMPION! This weekend Lucy and I went
to Norway. It took seven hours!!!!! to go to the show and Lucy did it again !! She took her last CC in Norway and her new
title is NUCH (Norwegian champion) LPI Thornapple Ruby Passion JIPPIE JIPPIE !!!! Lucy doesn't have so much coat but
she did it anyway. The judge name was: Patti Widick Neale, USA --- HUGS, Marie and Lucy
CONGRATULATIONS MARIE! Lucy makes us very proud!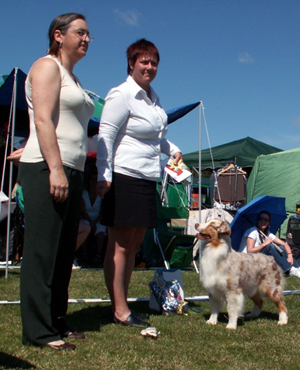 Best Bitch Aussie Specialty *** AKC Breeder Judge Joni Johnson

Hi Ellen and Amy! I hope everything are alright with you! Here in Sweden It's very good, especially today. I took my girls to a dog show
( we have to train for the WORLD DOG SHOW next week J) It was 16 aussies entered. Olivia became second best bitch with CC
(She has three CC now) and BOB was little beautiful Lucy! The judge were Bo Wiberg from Sweden. Then we waited the whole afternoon
for the group and Lucy were placed as BIG 2! The judge name were Natalja Nekrosiene from Litauen. Now we are home and we are tired!!.
I know I promised you pictures from the dog show when Lucy became BIG 4 and here they are. I'm waiting for pictures from this show to.
I'll send them to you as soon as I get them. Hug Marie, Lucy and Olivia
CONGRATULATIONS MARIE!!!! WAY TO GO!


I hope you had a great time at the Nationals this year and that you have good results with you home !!
I think AL has told you the results from last week, Lucy became BOB at a big show in Västerås.
The judge really liked her. It was the same judge that gave her the first CC. She told me that she has
checked Lucy out and that she has been seeing that she has done very well at all the dog shows she been to !!
I think that was fun to hear ! But now something else. Today, Lucy got her first obedience title here in Sweden.
Her new name will be: LP 1 Thornapple Ruby Passion. I am so proud of her, she has done a good job.
At the club we went to today she also became "The best obedience dog of the day".
Now we can say that Lucy is BRAIN and BEAUTY


OBEDIENCE NEWS!
I just want to tell you that Lucy is a girl with both beauty and brain ! Yesterday we went to our first obedience competition.
I have been at a few competitions before but Lucy has never been at a obedience competition. It is a lot of things
that you should do with the dog, fetching, jumping over an obstacle (I don't know if you spell it that way ) and a lot of other
things. Little Lucy did a great job and got a first price…If we get two more first price she will get her first obedience title..
She is the girl of my dreams !!!!!! She do everything I tell her to do ! Here are photos from Lucy's competition. Hug, Marie and Lucy
AND THE NEWS CONTINUES WITH MARIE REPORTING IN FROM SWEDEN!
This weekend were á wonderful weekend for me and my dogs. On Saturday me, Olivia and Lucy went to herding.
Olivia has never seen a sheep before. Lucy did very well and if the test had been official she had done VERY WELL!!!!
Little Olivia was a little bit afraid of the sheep, but the judge said that she will do better next time. My girls are so wonderful!!!
Sunday morning, Lucy and I went to the south of Sweden for a dog show. We meet AL, Niklas and Bitta !! This day were the
Thornapple dogs day! Little Lucy is a darling. Well I took some pictures of the girls when we were herding!!
Here they are!! Hug Marie, Olivia and Lucy
WE LOVE THE CHOCOLATE SHEEP, MARIE! JUST IN TIME FOR EASTER! GOOD JOB MISS LUCY & MISS OLIVIA!


Herding fun March 2008
HUGE NEWS FROM SWEDEN *** March 16, 2008 ***
Today Lucy and I went down to the south of Sweden to meet
Anna-Lena, Niklas and Bitta for a dog show. The show went well for the Thornapple dogs.
Chauncey (Thornapple Ragtime Move Over) became BOB with CC and CACIB and Lucy became
BOS with CC and CACIB. Diablo (CH Thornapple Aftershock) was second best male,
Applethorns Storm Force third best male and Boom fourth best male. We could have had a
wonderful group to show in the breeder groups but Bitta had to go home. Today it was the
best looking dog that won !! Chauncey IS WONDERFUL !!! CONGRATULATIONS to everybody!
Hug, Marie and Lucy Thank you for reporting show results Marie! CONGRATULATIONS to all!!!

I saw this picture at me and Lucy from the last show at the web.
I think the picture is FANTASTIC!!!!! And I think Lucy is beautiful !!!!!! Hug Marie

Lucy & I have been to a dog show this weekend. She got her 5th CC and then became BOS.
My boy, Easy Around The World, became BOB!!! I will send you a picture of her. Jessica
took it when we were at a dog show. Hugs, Marie & Lucy

Thornapple Ruby Passion * BEST OF BREED (left) * November 2007
Congratulations, Marie & Lucy!


Good News from Marie!
I just want to tell you about my wonderful weekend. Saturday, Lucy and I went to a dog show
and Lucy ended up with her third CC and R-CACIB. Then she ended up as second best female!!
I'm very proud of her, I just say WOW ... !! On Sunday, I took Easy Around The World
(Thornapple Mandarin Passion - Propwash Ponder) and Lucy with me to an Aussie Show.
It was over 40 Aussies! Lucy got her fourth CC and then she became BOS. My boy Easy
Around The World made me so proud! He became BOB and BIS 1!!! I think this is
wonderful!!! Hugs, Marie & Lucy

BEST BITCH! Group 2 *** 1st CC!!!! April 2007 * FIRST SHOW!
Breed Judge Eva Eriksson * Group Judge Bo Wiberg!
BEST BITCH *** 2nd CC * April 2007 * SECOND SHOW!
Breed Judge Ove Germundsson
WAY TO GO MISS LUCY!


"Last week Lucy met sheep for the first time here in Sweden
and she did very well! Today we have been herding again and
I took some pictures of her and the sheep. We have met a
wonderful lady who will help us with the herding. Both Lucy
and I are thinking herding is very funny! Have a nice weekend!
Hugs, Lucy & Marie

Austen & his favorite girl, Lucy!

Lucy LOVES Grandpa Jim's line of treasures!